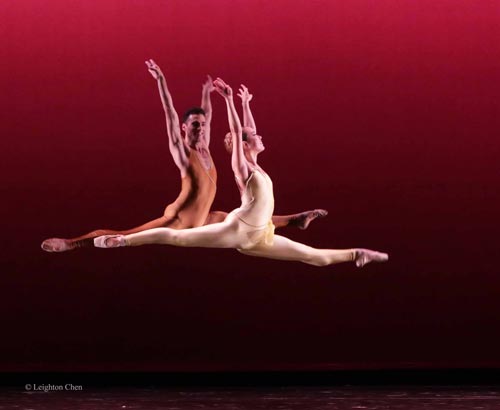 American Repertory Ballet is pleased to announce it spring performance season. Performing at venues across the state of New Jersey, the company, led by Artistic Director Douglas Martin, will once again present the finest ballet available to the residents of New Jersey and beyond. Tickets to all performances are currently available.
Titles included in this season is:
A Midsummer Night's Dream, Friday March 18 at noon (school-time performance) and Saturday, March 19, 2016 at 3 p.m. Raritan Valley Community College, Branchburg, N.J.
Spring Into Dance, Friday, April 1 at 7:30 p.m. Union County Performing Arts Center's Hamilton Sate, Rahway, N.J.
Masters of Dance & Music, Friday, April 8 at 8 p.m. McCarter Theatre, Princeton, N.J.
Echoes of Russian Ballet, Friday, April 15 at 8 p.m. State Theatre, New Brunswick, N.J.
PERFORMANCE DETAILS:
A Midsummer Night's Dream: ARB Artistic Director Douglas Martin's full-length ballet, A Midsummer Night's Dream, premiered last spring to high praise. Set to an enchanting score by Felix Mendelssohn, the ballet brings to life the wit and splendor of one of William Shakespeare's most popular comedies. Featuring colorful choreography, costumes and sets, the story portrays the weaving tales of cunning fairies, quarreling lovers and a hilariously amateur acting group as their paths cross in a magical forest.
Spring Into Dance: American Repertory Ballet returns to Hamilton Stage with a variety of thrilling works. It is an incredible opportunity to see this world-class troupe of professional dancers up close in this lovely, intimate venue performing highlights from the company's full season!
Masters of Dance & Music: American Repertory Ballet returns to McCarter Theatre to present works created by masters of ballet and modern dance, featuring music by Ludwig van Beethoven and Alexander Glazunov. A world premiere by American Repertory Ballet Resident Choreographer Mary Barton will travel through Beethoven's creative process against the majestic musical landscape of his infamous Symphony No. 7, played live by the Princeton University Orchestra under the direction of Maestro Michael Pratt. Glazunov Variations, choreographed by renowned choreographer and former American Ballet Theatre dancer Kirk Peterson, is a highly technical work danced to sections of Glazunov's music for the classical ballet Raymonda. Alongside this classical ballet, American Repertory Ballet will showcase There is a Time, a deeply evocative work by José Limón, a true pioneer in modern dance and choreography.
Echoes of Russian Ballet: With Echoes of Russian Ballet, American Repertory Ballet presents an evening of ballets inspired by infamous, revolutionary works that the legendary Ballets Russes brought to America in the early 20th century. The ambitious program features: Artistic Director Douglas Martin's Firebird, set to a compelling score by Stravinsky, Martin's Rite of Spring, also set to music by Stravinsky, and Kirk Peterson's Afternoon of a Faun (L'après-midi d'un faune), set to Debussy's provocative score. This performance recommended for ages 13 and up due to limited mature themes.
American Repertory Ballet's mission is to bring the joy, beauty, artistry and discipline of classical and contemporary dance to New Jersey and beyond through artistic and educational programs, presented by a financially responsible organization.
For more information about American Repertory Ballet please visit: www.arballet.org
Source: https://www.newjerseystage.com/articles/getarticle.php?ID=6832